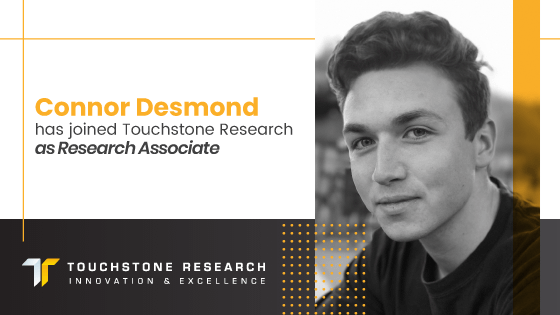 California – December 15th, 2022 – Touchstone Research announced today that Connor Desmond has joined the firm as a Research Associate on TSR's qualitative division.  Desmond will work closely with TSR's youth and family, media entertainment and technology clients to help execute a wide range of innovative qualitative research studies.
Prior to joining the firm full-time, Connor worked for Disney Branded TV as a Consumer Insights Analyst. Connor holds a BS in Economics, Politics and Philosophy, and a Master's Degree in Entertainment Industry Management.
"We are excited for Connor to join our Qualitative Team! His passion for entertainment and media research and his strong interest in qualitative methodologies makes him an excellent fit. We are thrilled to have Connor on board and to continue growing in his career at Touchstone." – Jacquelyn Andstrom, Research Manager
In his free time, you'll find Connor at the local pickleball courts, hiking at one of LA's many trails, or at home watching anything food- or news-related. Feel free to talk to him about what new music you're listening to, because he's always searching for recommendations.
About Touchstone Research, Inc.
Touchstone Research, Inc. is a full-service marketing research and consumer insights firm serving the world's largest brands, marketers, and agencies. Headquartered in New Haven, Connecticut, with teams in Los Angeles, Austin, Denver, Florida, Chicago, North Carolina, Michigan, New Jersey, New Hampshire, and Rhode Island.  Touchstone Research specializes in custom research, managing proprietary online panels and communities, youth and family, media and entertainment and technology research. For more information, visit www.touchstoneresearch.com.