What is Secure Content Testing (SCT)?
Secure Content Testing (SCT) is Touchstone's proprietary visual and forensic watermarking security technology for protecting content in marketing research and consumer insights studies. SCT works by applying a unique visual and forensic watermark to content within a quantitative survey or qualitative research study that can be used to tie the content back to the individual research participant. This provides an extremely effective technique for deterring respondents from sharing content as any compromised content can be used to identify the person who shared it.
The visual watermark can include personally identifiable information including participant name, email address, user-ID, and IP address. The watermark is burned into the content and cannot be removed. The forensic watermark provides an additional layer of security using an invisible watermark that is also burned into the streaming file that can be used to identify a participant.
SCT works on all devices (smartphones, tablets, computers) and across a range of content including video, photos, storyboard, animatics, concepts and documents.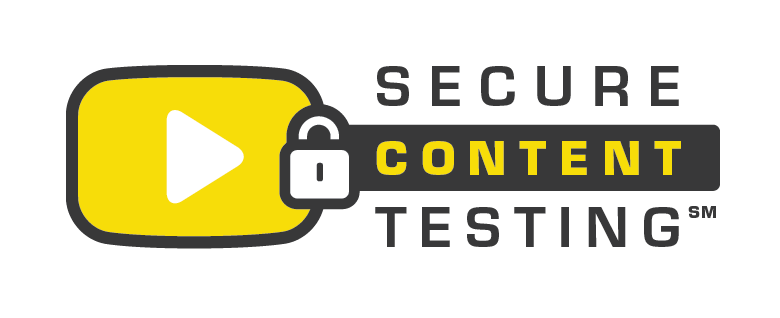 What types of content can be tested?
Streaming video
Short-form content
Promos
TV show pilots
Movies
Storyboards
Animatics
Images
Concepts
Advertisements
Documents
Types of studies we can run for you using SCT (quant & qual):
Pilot tests

Movie Screening

Concept tests

Ad tests

Storyboard research

Animatics research

Messaging tests

Remote sessions (IDI's and Online Focus Groups)

Insight Communities and Online Qual activities
Listen to TSR's VP and Data Security Officer, Travis Santa discuss the state of content protection with SHIFT & Chatterly.
Security Features
SCT provides the highest level of content security in the industry using:
Dynamic Burned-in Visual Watermarking to identify the user by email, user ID, name, IP address

Forensic Watermarking (same watermarking technology used in premium live sporting events)

Real time and on-demand

Prevent rewind, fast forward, video download

Highly Secure Video Platform uses AES Encryption (at rest and transit) & SSO User Authentication
Have a project where you need to securely protect your content? 
Touchstone can incorporate SCT into full service and flexible service projects depending on your needs. In addition, we provide SCT research services on an ad-hoc or research service bundle basis. Please contact us with your project details and/or questions to learn how we can help. 
In the News