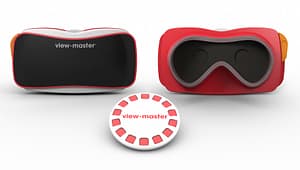 Tech Savvy Researcher – VR Insights Edition
Long gone are the days of the familiar click as you changed the slide in your shiny red View-Master, exploring the 3D worlds of your favorite book, movie, or place. With ever expanding and changing technology, the View-Master's once futuristic and innovative design is now just an outdated toy, or is it?
View-Masters have been a staple in American childhoods since its iconic red Model G was released in 1962. With the help of Google Cardboard's technology View-Master is updating their classic product and giving it a 21st century make-over by jumping into kid friendly virtual reality experiences. That's right, virtual reality is no longer something just for the rides at amusement parks, but something that will likely become common place in the near future.
The new View-Master VR won't just take your child on a visual journey, but will fully immerse them in a virtual world complete with sounds, 360 views and fun facts about that day's adventure. The View-Master VR has come a long way from its humble beginnings as an alternative to a scenic postcard debuted over 75 years ago at the 1939 New York World's Fair.
By pairing your smartphone with a viewer and newly designed reels, you and your child can take a field trip to different cities, historical periods and even other planets. The graphics are in Fisher Price's iconic kid friendly style complete with brightly colored graphics that are sure to grab your child's eye. As you look through the viewer the disk comes to life and turns into a smaller version of the real city, or The Solar System for example. A click of the familiar orange lever will zoom in and allow your child to walk around monuments and even learn facts about each location. Look at San Francisco for example, when looking through the viewer you will see a disk with the Golden Gate Bridge, Fisherman's Wharf and Alcatraz. In seconds you are transported to the middle of the Golden Gate Bridge, you hear a bird fly overhead and look up to see a seagull swooping toward you. While in the past View-Master has released thousands of different reels, there are only three currently that we can be certain of for the View-Master VR, San Francisco, The Solar System and Dinosaurs. While the exact launch date hasn't be released it is expected to become available just in time for the holiday season with a launch rumored mid-October. The $29.99 price tag for the viewer and sample reel, makes this updated classic one of the most reasonably priced VR headsets currently available on the market. Extra reel packs will cost $14.99 each and the headset will work with most smartphones. The additional reel packs will be based around themes including, nature, science and adventure destinations, according to the official release announcement made by Mattel.
Parents that want to have their own virtual reality experience should look at Google Cardboard. With the wide range of VR apps available you can play games, sightsee, or even draw all in virtual reality. My personal favorites include; The North Face Climb that takes you on a rock climbing and base jumping adventure in Yosemite Park or Moab, Utah and the London VR app, a walking tour of London that you can take while relaxing in the comfort of your living room.
Virtual reality is shaping up to be the next big thing, companies like Facebook, Google and Samsung are all in the process of creating virtual reality headsets and technology, many with 2015 expected release dates. Mattel's View-Master might be the first step to make virtual reality accessible to kids of all ages. I'm anxiously awaiting the announcement of the re-release of the classics, like the Flintstone's and Alice in Wonderland. I'd love to take a stroll around the Queen of Heart's garden, for now the Moon will have to do.
What are some reels you hope to explore with the View-Master later this year?
Click Here to read the full release statement and sign up for updates on the View-Master VR
To learn more about google cardboard Click Here