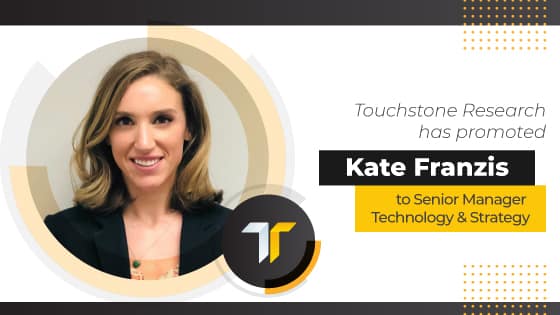 Connecticut – Touchstone Research announced today that Kate Franzis has been promoted to Senior Manager – Technology & Strategy on TSR's quantitative research division.  Kate will wear a lot of hats as Senior Manager – Technology & Strategy, but her core responsibilities include expanding TSR's research service offerings and toolkit, as well as integrating new technologies into the research process to streamline and optimize TSR's systems.  Kate will help unlock innovation through technology throughout the entire Touchstone organization; ensuring that Touchstone remains the leader in innovative and advanced methodologies and technologies applied to market research.
Kate has extensive experience leading quantitative research projects and building research panels for clients across a variety of industries, including media & entertainment, tech/social, and CPG.  Over the course of her career, Kate has fielded hundreds of research projects for her clients, across a wide range of methodologies (brand tracking, conjoint/MaxDiff, ad testing, content testing, segmentation, etc.).  Through this experience, Kate has developed a mastery across all aspects of quantitative research.  Kate's expertise ranges from research design to survey programming to data analysis to building & recruiting research panels, and everything in between.  She has advanced expertise in numerous MR applications, platforms and software and effectively leverages technologies to help our clients gain greater consumer insights and connect with their customers. She will bring this wholistic mastery to bear in her new role as she spearheads TSR's ongoing innovation initiatives.  Outside of work, Kate enjoys hiking with her dog, Will, and spending time on Cape Cod with her friends and family.
"We are very excited to announce Kate's well-deserved promotion to Senior Manager – Technology & Strategy.  Kate has extensive experience in coming up with innovative research methodologies and technology solutions to help our clients generate the best insights possible.  In her new role, Kate will be spearheading work on many exciting upcoming research technologies solutions and initiatives—some of which will be launching in early 2023!  We are very excited to have Kate in this new role. Her many years of expertise working across a range of custom projects and research panel executions will bring tremendous value to our clients!" Aaron Burch, CEO
About Touchstone Research, Inc.
Touchstone Research, Inc. is a full-service marketing research and consumer insights firm serving the world's largest brands, marketers, and agencies. Headquartered in Branford, Connecticut, with teams in Los Angeles, Austin, Denver, Florida, Chicago, North Carolina, Michigan, New Jersey, New Hampshire, Idaho, and Rhode Island.  Touchstone Research specializes in custom research, managing proprietary online panels and communities, youth and family, media and entertainment and technology research. For more information, visit www.touchstoneresearch.com.