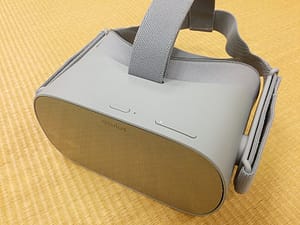 As one of the most experienced research firms focused on embracing new consumer technologies, our employees need to do more than talk the talk.  They need to walk the technology walk too!
Recently, we were surprised to discover that some of our newest hires had never experienced virtual reality (VR) – a technology that Touchstone Research is very passionate about.  So, we were eager to show them what VR is all about! 
What started as a small conversation in a cubicle, quickly began to attract more interest and attention throughout the office.  Before we knew it, most of the office was gathered in the conference room with an Oculus Go virtual reality headset.
Little did we know, this would turn into such a fun team building event. Here's what happened.
People got up and moving
Our office members spend most of the day sitting behind computer screens, analyzing data and communicating through Slack, which doesn't leave much time for our full team to come together and socialize.  However, through the novelty of cutting edge VR technology, we generated office buzz that quickly got people away from their desks.  Conversations I overheard included: "Have you ever used it before?" "What does VR feel like?" "What can you see and do once you're inside?"
Catalyzed new conversations  about current & future experiences
We began with a roller coaster ride simulation as an introduction to VR for those who hadn't tried it before.  This was an exhilarating way to get started with the technology, especially because of the initial shock of experiencing virtual reality
"movement" while remaining perfectly still physically. 
The various reactions to people's first time using VR ("It's like a spaceship!" "He's nervous" "I love it in here!") along with the varying landscapes of the VR roller coasters instigated interesting new discussions between co-workers.  Conversations organically popped up around life goals and desires to visit unique or foreign destinations in virtual and real life.
Team building
Once we got used to the VR technology itself, we played a game called "Keep Talking and Nobody Explodes". 
Briefly, it is a cooperative-style game where your team has only 5 minutes to defuse a ticking time bomb! The game was ideal for our purposes because it allows for an unlimited number of players while only requiring one VR device.  The player wearing the VR headset sees an imaginary explosive device with different modules (e.g. different colored wires, buttons to press, etc.) while the rest of the team (without the VR headset) uses a physical manual to figure out how to disable each module.  Because the team without the VR headset cannot see the bomb, they must communicate and coordinate carefully with the person in the VR headset to quickly defuse the bomb.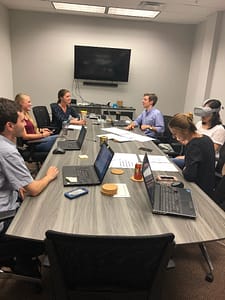 It was fun both in VR and out. When it was my turn to put the headset on, my hands were sweaty, and I was surprisingly nervous. The fact that it felt real to me raised the stakes for everyone else too! There's nothing like being in a state of (non-work) related panic to bring a team together!
Office-wide interest
Even for those who couldn't participate due to other work engagements, the office bonded through company-wide chat about the experience and planned for future occasions to try it out.  
Conclusion: 10/10 experience, would recommend
Bringing VR to our office – just one of the many novel ways we're using new technologies to strengthen our company and client-services – made us a better, more connected team. We all loved that VR could take us to new worlds and allow for team bonding and socializing.
Whether you're a tech-focused firm or not, bringing virtual reality to the office is an extremely fun way to help your staff come together.