Aaron Burch (theburchyburch)
For those of you who are not familiar with SXSW (South by Southwest), let me break it down for you…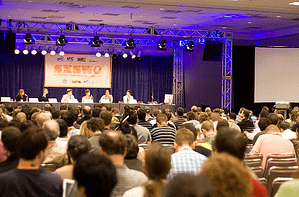 SXSW is one of world's largest Music, Film, and Interactive festivals attracting over 17,000 registrants to beautiful Austin, Texas each year. SXSW runs from March 11 through the 20th. It is the premier destination for discovering new creative content and emerging technologies. Each year, hundreds to thousands of musicians, film makers, start-up companies, and industry leaders invade Austin for SXSW's awesome panels and keynote discussions, impendent films, original music, emerging technologies, social media, networking events, and awesome parties.
To truly understand its importance, think Twitter, think Foursquare (both platforms launched at SXSW). This year there has been talk of big brands luring bloggers out to Austin with free travel and other paid expenses to cover the event—it's that big!
SXSW offers 3 Conferences/Festivals: SXSW Music and Media Conference, SXSW Film Conference and Festival, SXSW Interactive Festival. I recommend attending all 3 SXSW Festivals but if you can only make one, you really need to go to the SXSW Interactive Festival (March 11-15).SXSW Interactive features 5 days of some of the best presentations in emerging technology, networking events and parties, Trade Shows, and awesome programs showcasing the best new video games, wireless applications, digital mash-ups, and innovation.
SXSW and the MR Guru
You might be thinking to yourself, what does SXSW Interactive have to offer the Market Researcher? My answer to you is everything. While SXSW Interactive is not your typical MR event, there are tons of panels and discussions that are directly tied to our industry, all you have to do is think outside the box and open your eyes. With the explosion of social media, mobile and new cutting edge technologies, there are huge opportunities for Market Researchers to stay ahead of the curve and adopt non-traditional MR technologies and find ways to add these new technologies to our MR toolbox. Many are already aware of some of the possibilities new emerging technologies have to offer us with the introduction of things like MROC's and Insight Communities, Mobile MR and Mobile apps, Social Media Monitoring and Social Market Research, Data Mining, Webscraping, other Online Qual tools—the list goes on.
Attending  SXSW
Okay, so like I said SXSW is HUGE, and as a newcomer to SXSW Interactive one problem you are sure to face is getting around. Navigating SXSW and deciding which one of the thousands of panels, discussions, keynotes, events and vip parties to attend can be quite overwhelming but don't worry I'm here to help.
While it's pretty hard to not take away something valuable from this epic festival, to make things easier for my fellow ahead-of-the-curve researchers I have outlined some panels, discussions, parties and events that I think tie in to the current innovative trends in our industry. These are by no means the only worthwhile events so please don't limit youself. These are simply some panels & discussions I think you will find valuable (of course it will be impossible to attend them all).  Take a look and you'll get the vibe…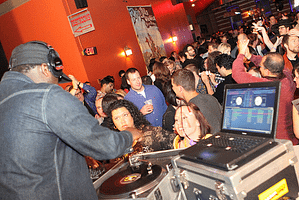 Parties You Should Attend
The 3rd Annual MashBash SXSWi 2011Party is a must attend event.  This awesome party/networking event will take place this Sunday 3/13/2011 from 10pm-2am at Buffalo Billiards, 201 6th Street, Austin, TX
SXSWMR
As you can see, SXSW offers the innovative MR junkie some awesome panels,  discussions, networking events and parties!
The Touchstone Research team will be attending SXSW Interactive and will be tweeting cool and interesting info related to MR as it is discovered using the hashtag #SWSWMR  (should have some pics and vid to share as well!)
We encourage all fellow attendees and researchers to tweet any valuable research related content you come across during the event using the hashtag #SWSWMR  We hope to see you there!
SXSW GO Mobile App
This year SXSW attendees can download the official SXSW 2011 mobile app, SXSW GO for iPhone, iPad and Android. The app allows you to view/build your schedule, see a map of what's happening and how to get there, search for events, venues or exhibitors, and check in to events with Gowalla or share favorite events via Twitter or Facebook. You can even monitor the SXSW Twiter feed and Facebook page directly from the app.
Download SXSW GO: